The Timing Belt range offered by Schiki Belting is the ideal solution if your product or production process demands accurate synchronisation of time and distance.
Our offer includes the widest range of high performance profiles, allowing to select the best technical solution in every drive application.
PU Moulded
Moulded Timing Belts (iSync®) are innovative high performance belts for power transmission made with polyurethane resin body and tension cords in steel or aramid fiber. The high elastic modulus of tensile cords allows a good dimensional stability under load. The production process, based on a unique and highly sophisticated technology, together with the high quality of the materials in use make our belts extremely precise. Moreover, our belts allow to transmit up to 30% more than the T and AT conventional belts resulting in long lasting belts or in a more compact drive. Moulded Timing Belts are produced in sleeves at standard lengths and cut to requested belt width.
In order to optimize the use of our  iSync® belts, special cord executions are available:
HFE high flexibility: allows the use of pulleys and tensioners diameter of up to 30% lower than the standard
High resistance HPL: with the strand section increased, allows lower elongation and consequent better positioning accuracy
HPFE high strength and flexibility combine high stiffness and improved flexibility
Stainless steel: for highly corrosive environments or application in food applications
Aramid fiber: non-magnetic, excellent flexibility and low weight of the belt
Glass fiber
Polyester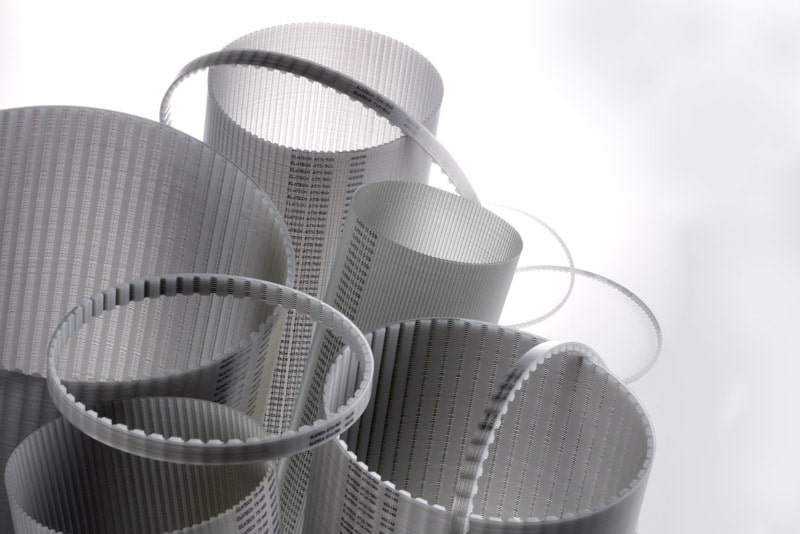 Mechanical and chemical properties, product characteristics:
High performance power trasmission;
Maintanance free
Clean power transmission without dispersion of dust
High chemical resistance and in particular to oils, greases and gasoline;
High abrasion resistance
Operating temperatures from -10°C + 80°C (standard)
Special compound PU53 for high temperatures
Standard natural color, special colors available on request
Available in VACUUM applications execution
Available in dual-toothed execution (DUAL)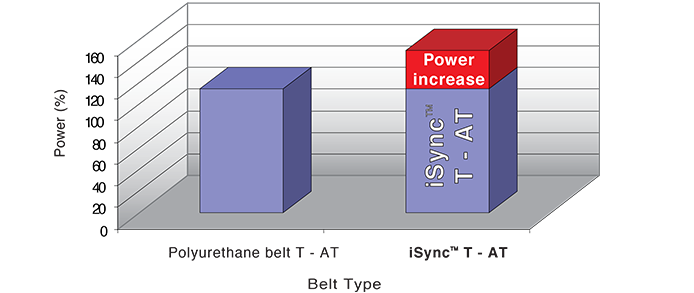 Plotter;
Office machines;
Medical equipment;
Packaging;
Robots for cleaning the swimming pools;
Vending Machines;
Optical instruments;
Cameras;
Machine tools;
Robot; Appliances;
Vacuum systems;
Food machinery;
Textile machinery;
Garden equipment.
T2
T2.5
T5
T10 – TV10 – Vacuum
AT3
AT5
AT10
XL – IMPERIAL
L IMPERIAL
DT2.5 – DUAL
DT5 – DUAL
DT10 – DUAL
Fabrication & Accessories
Semi-finished belts can be customised to exact requirements.
In our fabrication centres, belts are trimmed to size for length and width. Belts can be processed with holes and grooves.
They can also be fitted with accessories such as carriers, ropes adn covers.
Covering
Covering materials determine a belt's unique set of properties, such as friction, flexibility; wear resistance and oil and fat resistance.
Schiki Belting can apply an extra cover to almost any base belt, whether it is a standard belt, a high-performance flat belt or a timing belt. We offer an extensive range of covering materials, including rubbers, PVC, polyurethane, cellular materials and other special materials.
Machining
Examples of machining are:
Grooves for v-guides and for vacuum belts
Perforated holes created by water jet cutting, punching or drilling
Grinding (full surface or profiles)
Embossing of thermoplastic covers
Milling recessed slots
Our belts can be made endless by various methods:
Welded joint
Mechanical Fastening
Cleats
Cleats are a popular accessory. Different types are available. Cleats are available with metal teeth to enable mechanical attachment to the belt.
EFT system is offered in zinc coated or stainless steel teeth with either embedded tooth or total tooth design.
The application of profiles in different materials from the belt body (steel, polyamide, POM, wood, etc.) and in virtually any dimension is possible. The belt tooth is replaced by a false tooth in galvanized or stainless steel.
EFT belts are available in two executions:
Total Tooth Design: the polyurethane tooth is entirely replaced by a steel tooth;
Embedded Tooth Design: it prevents metal to metal contact and reduces noise.
Pulleys
Pulleys for timing belt applications can be selected from the standard range or they can be manufactured according to specific drawings and requirements. Standard range consists of pulleys for all common timing belts with standard widths, diameters and construction.
Materials:
aluminum
steel
cast iron
plastics